April Housing Report: Sales down, prices up
While the stock market recovered significantly in March, the effects of COVID-19 to the economy continue to build. In just the last four weeks, more than 20 million people filed initial unemployment claims according to the United States Department of Labor, fueled by stay at home orders and a slowdown of economic activity across the country. Added to the unemployment claims from March, more than 30 million people have become unemployed since COVID-19 has become widespread in the U.S. In the face of these challenging times, real estate activity in April slowed significantly.
New Listings were down 40.2 percent for single family homes and 50.3 percent for condo properties. Pending Sales decreased 20.5 percent for single family homes and 49.6 percent for condo properties.
The Median Sales Price was up 11.5 percent to $325,000 for single family homes and 17.9 percent to $250,000 for condo properties. Months Supply of Inventory decreased 33.3 percent for single family units and 9.5 percent for condo units.
While the effect of COVID-19 continues to vary widely across the country, it is expected that social distancing, higher unemployment, and lower overall economic activity is likely to continue to constrain real estate activity in the near term. At the same time, the industry is adapting to the current environment by conducting business using technologies such as virtual showings and e-signing to help buyers and sellers with their housing needs in the face of these challenges.
https://d3dkdvqff0zqx.cloudfront.net/groups/nhrealtors/attachments/nhar_mmi_2020-04.pdf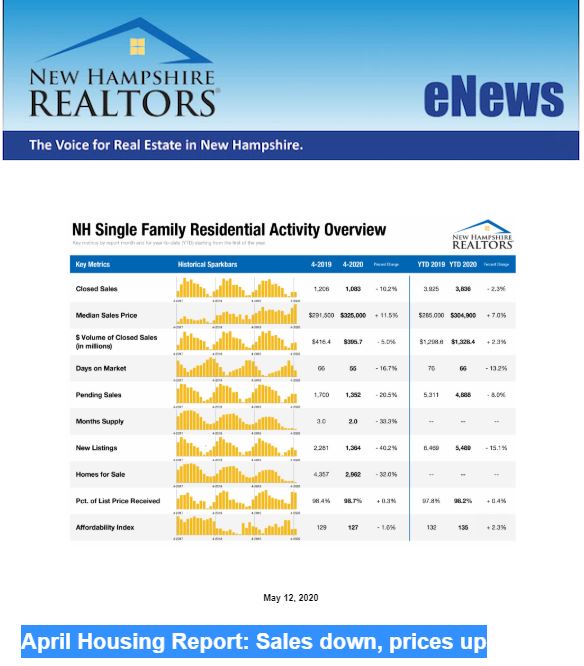 The Tracey Boies Team
Tracey Boies 603.997.1721
Joel MacQuade 603.944.0241